Farm holidays in Flachau:
Animals & nature very close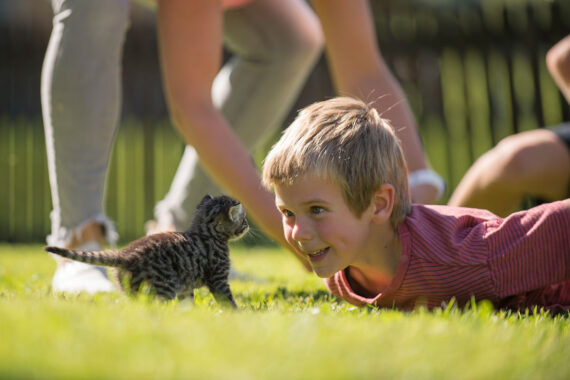 Dear children, animals are your great passion?...
...then you've come to the right place, because they are also our passion! We have completely renovated our small farm with its 5 apartments in 2019 and run it as a traditional farm. Many lovely animals live here and look forward to your visit: cats, rabbits, guinea pigs, mini pigs, our farm dog Lexy, mini ponies and horses. You are welcome to help feed, pet and play with the little animals. Our weekly activities with the horses are particularly popular: from pony rides to walks with the ponies, pony painting to riding rounds in our own arena. Here, horse fans and kids who love riding will get their money's worth!
Meet our farm & petting animals
The two mini pigs Susi and Strolchi love to be cuddled. If you bring them a snack, the joy is even greater! You are welcome to bring Lise, Lotte and Frieda – our rabbits – into the outdoor enclosure and, if you are very eager, clean out the rabbit hutch. Who is lying there in the sun? That can only be Schnurrsula and Flecki, our cats. Our farm dog Lexy is also immediately taken to heart by all our guests. The mini ponies Krümel and Sternchen love to go on a hike through the forest with you, are your companions during pony rides and can be painted with great patience during pony painting. Beginners and advanced riders enjoy riding Selecto and Perle. "The happiness of the earth lies on the back of a horse" – you will feel this during your farm holiday in Flachau!
Active on the farm:
right in the middle instead of just being there on a farm holiday
Walk through the forest with our mini ponies
3 times per week: pony riding
1 time per week: pony painting
Riding in our own riding arena
Help with feeding the animals, care, mucking out
Fun at the playground with large sandpit, swing, nest swing, slide, football goals,...
Barbecue tray for free use for barbecue afternoons/evenings with the whole family
In winter: lots of space for snowball fights, building snowmen, building caves etc.
And many other activities